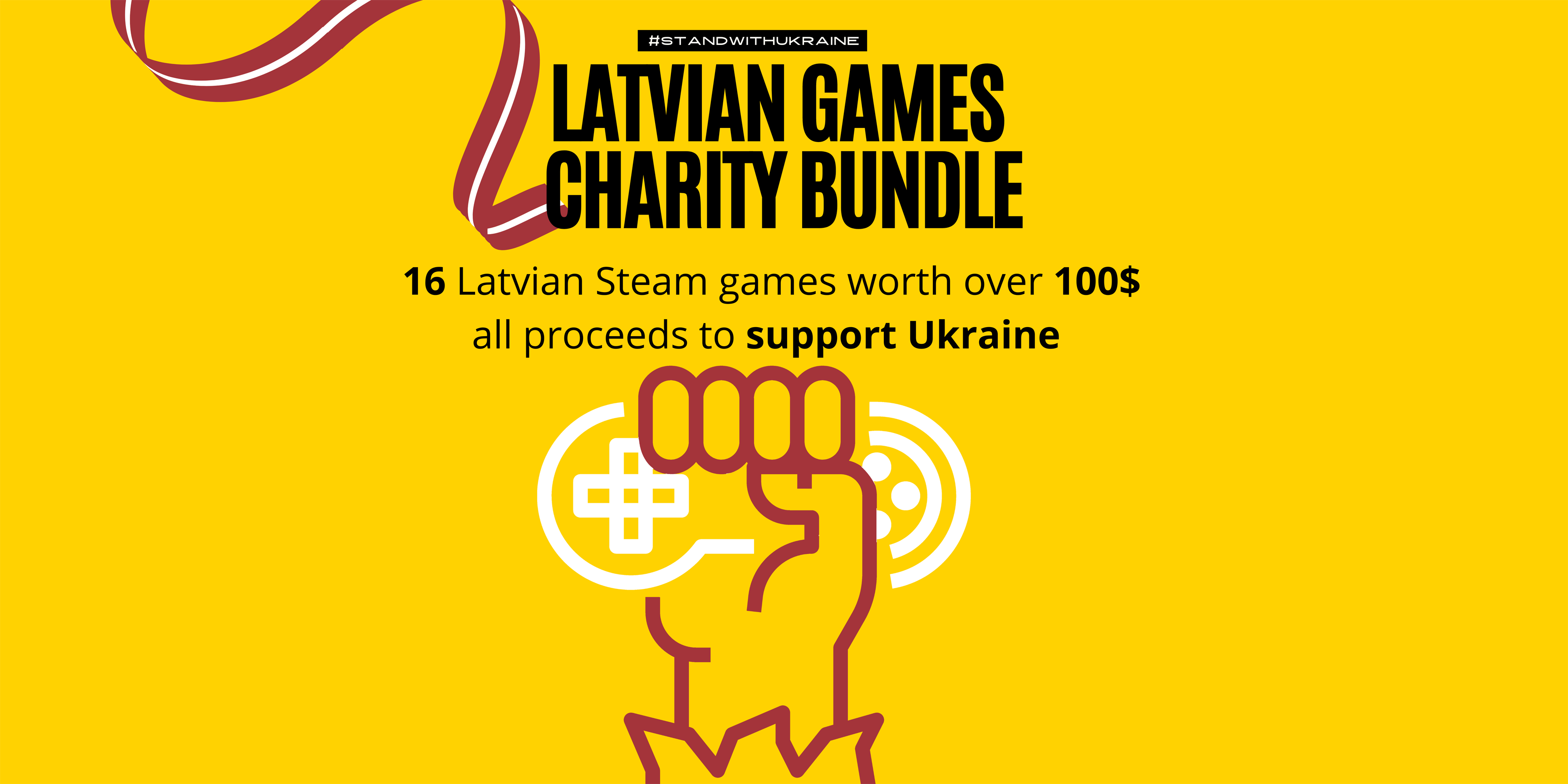 Latvian Games Charity Bundle - Stand With Ukraine
This bundle has ended!
Latvian game developers are banded together in this charity game bundle to help victims of violance in Ukraine. Twelve creators from Latvia come together with 16 Steam games in this bundle worth over 100$.
As game developers we are representing creative industry and as well as musicians and other artists we do not want to be left out but to support with what we have, and we have games. We can not and we do not want to helplessly watch how Ukraine suffers from this brutal and senseless attack. So we joined in to support Ukrainians to donate our work. All proceeds from this bundle will be donated to charity organization "Ziedot.lv" project "Stand with Ukraine".
We kept the minimum price low, but we highly urge you to pay above the minimum if you can afford to do so!

Games in this bundle:
Bearslayer (Early Access) - Fast-paced one button platformer arcade game about Latvian epic tale hero "Lāčplēsis". To complete the levels of the game you will have to be quick, precise and think fast. No matter how fast you are, you will die A LOT.
Comrades and Barons: Solitaire of Bloody 1919 - After the Great War Red Army attempted an offensive towards Europe to spark a communist uprising. Relive events of the year 1919 and fight through enemy cards in six historical scenarios spanning from December 1918 to January 1920.
Dude, Stop - "Dude, Stop" is a puzzle game, where the main goal is to not follow the rules and make everybody hate you. Break it, abuse it, skip the tutorial, ignore tips and tricks in the loading menu and - most importantly! - mute the narrator.
Flashing Lights (Early Access) - Become the law or save lives! Play solo or in up to 10-player multiplayer co-op! Flashing Lights is an open world police, firefighting and EMS simulator game with plenty of opportunity for role-play or more relaxed fun with friends.
Gorytale - Fast-paced, adrenaline-rushed FPS shooter set in a candy land, that is so damn sweet it could be called someone's Hell.
Lazy Galaxy - It's a mix between RTS and idle/clicker game. Lead an evil (albeit lazy) alien race to conquer the universe!
Lazy Galaxy: Rebel Story - Start a Rebellion! Lead your ships to take down the evil O'Xelg base in this squad-based shoot-em-up!
Micro Town - Build and manage your own settlement! A relaxing village construction and management simulator.
Moustache Mountin - A young moustache enthusiast goes on an adventure, to climb the highest flying mountain in search of a magical moustache gel!
Plaguepunk Justice - Become a healer! Cure, don't kill! Turn zombies back to humans! Plaguepunk Justice is a turn-based tactical strategy with alchemy and randomly generated levels.
Seacurity Breach - Seacurity Breach is a 3D tower defense game with a twist! We embrace verticality, ragdoll effects and a unique unit design.
Spaceport Hope - A huge hand-crafted world packed with 13 unique bosses, a gripping story, and tons of enemies, Spaceport Hope is the ultimate test of gaming prowess.
Try to Fall Asleep (Early Access) - John Herrin survived a horrible accident, damaging his brain and memory. Through falling asleep, he can rediscover his unfortunate past in his dreams, but because of his brain damage he'll start to see visions and hallucinations, and falling asleep won't be as easy as it seems at first…
The Inner Darkness - A lone man's journey through a strange world. Dimension switching mechanic - switch between the dimensions to traverse the world and solve puzzles.
There Was A Caveman - There Was A Caveman is a prehistoric themed, retro styled, action platformer. With challenging gameplay that will keep you on your toes. Get ready to die and die a lot.
Winter Sleigh - It is the weekend and Timmy with his sister and dad are having fun in the snowy hills. Pick your sleigh and join them! There are many tracks to try, some easier, some more challenging.